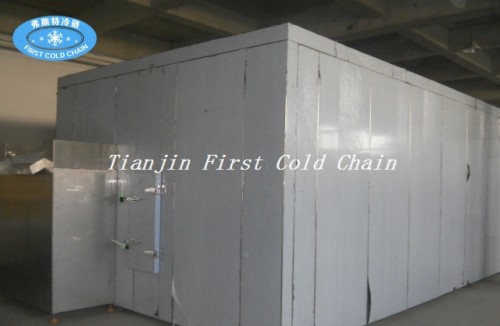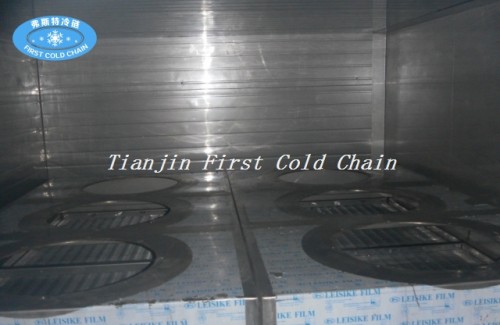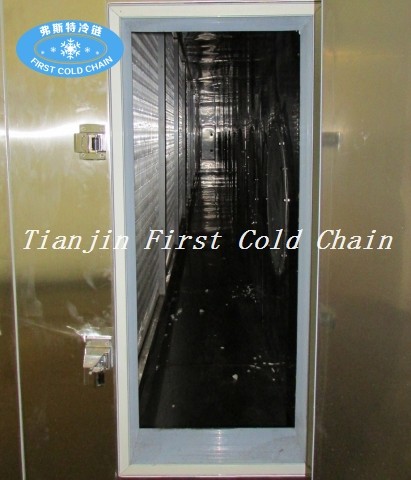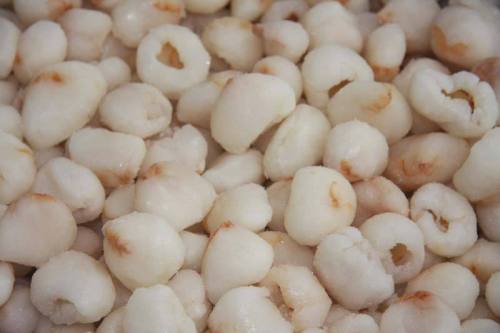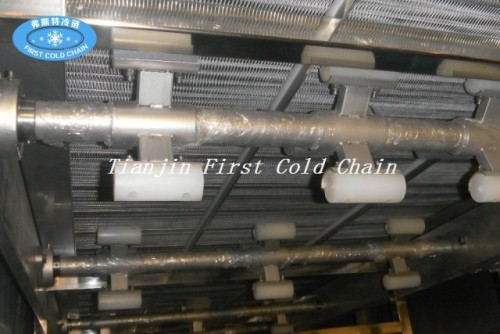 Alta calidad Fluidized Quick Freezing para iqf lichee
propiedad
Refrigerante

Freón
Estructura

Montado
Adecuado para

Fábrica
Sistema de refrigeración

Unidad de compresor de marca
tamaño

Personalizado
Usa la naturaleza

Producción
Uso

Vegetales y frutas
Material del cuerpo del congelador

Acero inoxidable 304
Especificación

CE ISO9001
Paquete de transporte

Caso de madera contrachapada marinero
Descripción
1) Suitable for fluidized IQF frozen processing for green peas or fruits and vegetables slices, dices etc.
2) Frequency converters for belt conveying and also fan blowers which assure flexibility during the production even with the most difficult products.
3) Extraordinary freezing efficiency is guaranteed by the extremely efficient evaporator, optimized design and quality finishing.
4) Easy access to all freezer parts, easy handling of maintenance and cleaning operations.
5) Stainless steel wire mesh belt, which is the most reliable solution by now, proven performance by users, and universal solution for easier replacement and maintenance all over the world.
6) Superior fluidized IQF function by extra belt hitting system together with the adjustable high pressure centrifugal blower to generate vertical air flows which keep the materials in a fluidized condition during the freezing process.
7) With our high quality stainless steel belt and on position cleaning device for the belt, we can bring the highest sanitation level and easy work for cleaning of our freezer.
parameters
Mode

SLD500

SLD1000

SLD1500

SLD2000

SLD3000

Throughput±10%(kg/h)

500

1000

1500

2000

3000

Refrigeration capacity (kw/h)
(To=-40, Tk=+35)

90

170

255

320

480

Freezer room size
L×W×H(M)

5.5×4.0×2.9

8.5*4.0*2.9

12.5×4.2×2.9

15×4.2×2.9

19.5×4.2×2.9

Exterior size
L×W×H(M)

7.5×4.0×2.9

10.5×4.0×2.9

14.5×4.2×2.9

17×4.2×2.9

21.5×4.2×2.9

Power(Kw)

19

35.2

49.2

61.2

78

In feed temperature

+15℃

+15℃

+15℃

+15℃

+15℃

Out feed temperature

-18℃

-18℃

-18℃

-18℃

-18℃

Inner circulation temperature

-35±2℃

-35±2℃

-35±2℃

-35±2℃

-35±2℃

Frozen time(Min)

6-30

6-30

6-30

6-30

6-30

Refrigerant

R717/R404A

R404A/R717

R404A/R717

R404A/R717

R404A/R717
Fluidized quick freezer structure diagram