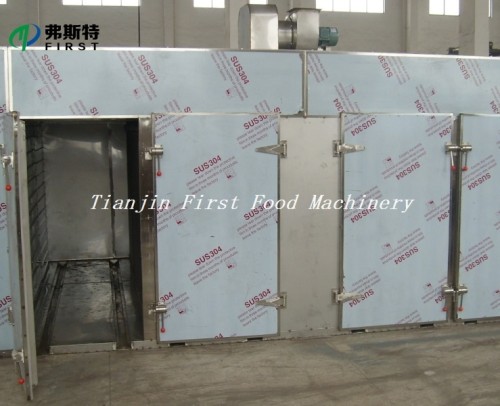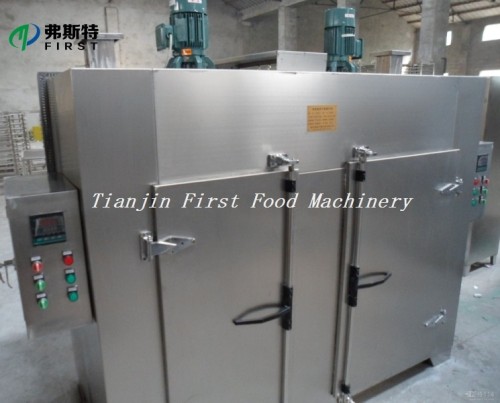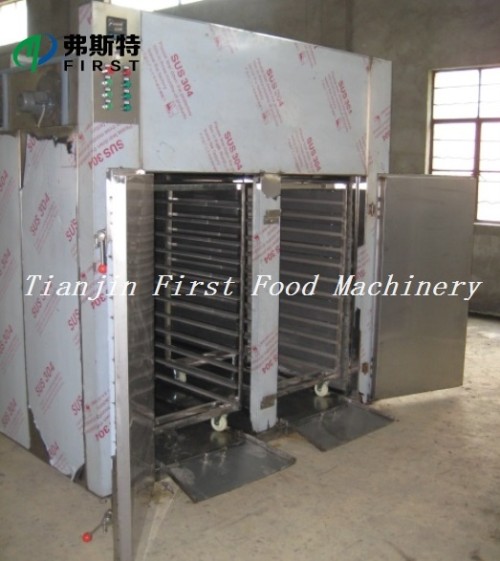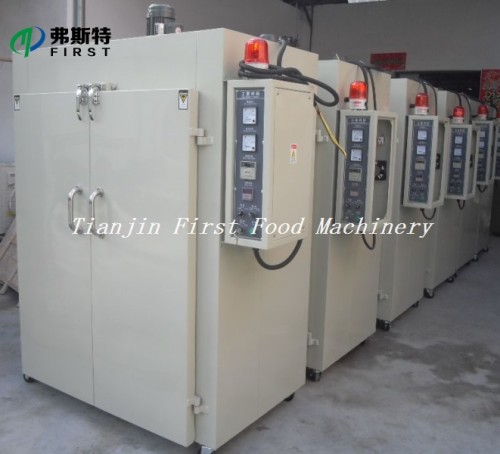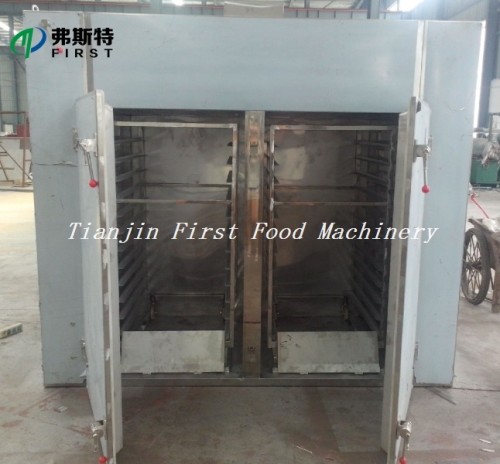 Máquina industrial del deshidratador del té de la hierba del aire caliente del acero inoxidable
propiedad
Nombre

Máquina deshidratadora de fruta
Material

Acero inoxidable 304
Proceso de dar un título

Certificado CE
Garantía

12 meses
Dimensión

Personalización
Paquete de transporte

Embalaje marinero
Marca

FST
Descripción
Product Description
Specifications
1 Drying vegetables, fruit chips etc
2 Drying granules, filter cake, paste and flake material
FOOD DRYING MACHINE

1.General application:
This kind hot air oven is suitable for heat solidifying, drying dehydration of raw material in pharmaceutical, chemical, foodstuff, industry. Such as Chinese traditional medicine, herbal extract, tablet of drink, granules, powder, pigment, dehydrated vegetable, dried fruit and so on. Also reach the GMP requirement.

2. Working principle:
The drying is the process that the raw material heated in the trays with hot air circle, the wet moisture take out from material will be exhausted outside at the same time.

3. Characteristic function:
1) Hot air is circled inside the oven, so ensure a high drying efficiency and save energy.
2) It used enhanced ventilation, and equipped with adjustable air distributor, lead to a uniform drying.
3) It's batch operation, so can adjust process condition anytime. Thus can change product from time to time, so very suitable for drying high-value product or small-batch product.
4) Feed and dry material in tray, easy for load and unload, not easy cause any damage for the raw material, clean conveniently.
5) With low noise and steady operation, and the temperature can be controlled automatically. Total conform with GMP requirement.
6) With a widely applied field, can be suitable for all kinds of raw material.It's a comprehensive dryer.
Equipment type

Drying capacity(kg)

Power

(kw)

Steam to be consumed

(kg/h)

Heat exchange

area(m³)

Velocity

(m³)

Temperature difference of the top and the bottom( ℃ )

Baking trays

Equipment size (L*W*H) mm

Baking

cart to be used(set)

Electric heating power(kw)

FST -C-50

50

0.45

10

10

3400

±2

24

1400*1200*2000

1

9

FST -C-100

100

0.45

18

20

3450

±2

48

2300*1200*2000

2

15

FST -C-200

200

0.9

36

40

6900

±2

96

2300*2200*2000

4

30

FST -C-300

300

1.35

54

80

10350

±2

144

2300*3220*2000

6

45

FST -C-400

400

1.8

72

100

13800

±2

192

4450*2200*2000

8

60