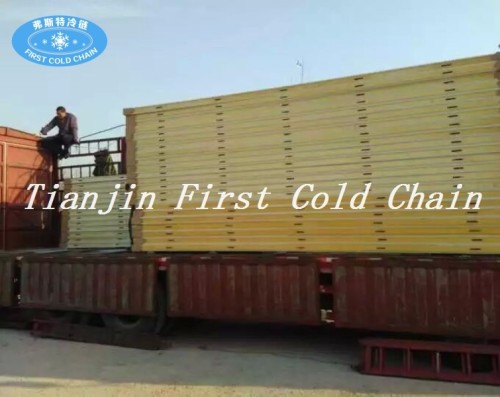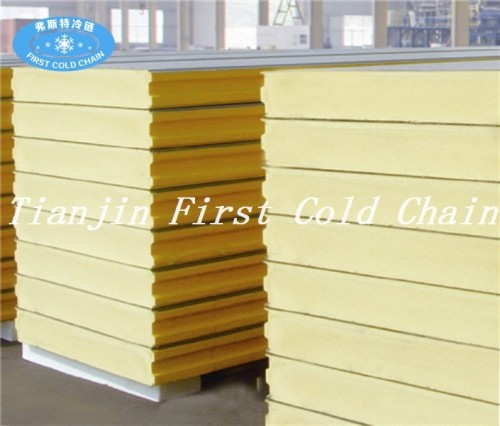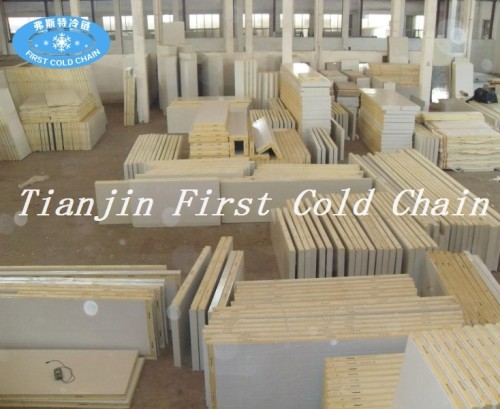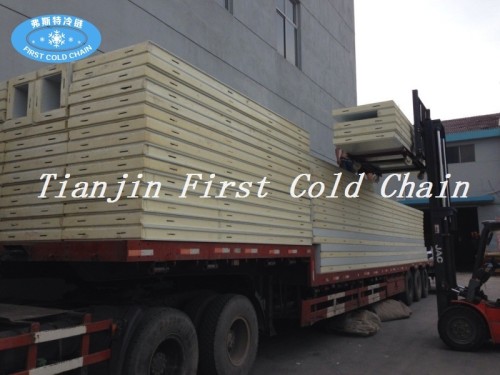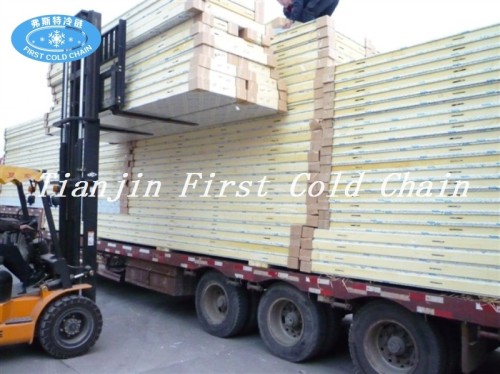 Tablero flexible de espuma de poliuretano a prueba de agua para cámara frigorífica
modelo

Tabla de sándwich de poliuretano para almacenamien
MOQ

50 square meter
propiedad
Color

varios colores amables
Estructura

Montado
Adecuado para

Sala fría de fábrica / almacenamiento
Material

Espuma rígida de poliuretano
Solicitud

Pared exterior
Densidad

40 ~ 45 kg / m3
Paquete de transporte

Embalaje marinero
Servicio postventa

Servicio de asistencia
Descripción
Product Description
Material used rigid polyurethane or polystyrene foam insulation sandwich, one time high-pressure perfusion molding foam process, can be made in various lengths and specifications. Its characteristics are: "Good insulation performance, lightweight, high strength, corrosion resistant, anti-aging, beautiful appearance."
Specifications
1. Panel width: 960mm, 980mm, 1150mm
2. Thickness: 50, 75, 100, 150, 200 mm
3. Length: According to project and transportation requirement
4. Color: According to project requirement (RAL Color)
6. Variety: H-beam (flat sheet, profiled sheet), matchboard, corrugated sandwich panel
Types are:
Color steel, salinization steel, stainless steel, aluminum embossed.
Parameters
Product name

Polyurethane (PU) Sandwich Board

Thickness

Upper layer

0.5-0.8mm

Core material

75mm, 100mm, 120mm,150mm

Bottom layer

0.5-0.8mm

Effective Width

Standard

960mm

Other

can be customized

Length

Customized, less than 12m

Density

38-40kg/m3

Weight

Up to model

Color

Generally white, blue, red, green

Temp tolerance

-120-90℃

Fire resistance level

A2 (incombustible)

Surface profile

Flat,corrugated, small wave

Compression bearing

≥0.2Mpa

Material

Upper layer

PPGI (prepainted galvanised steel) color steel sheet

Inner layer

PU foam (injected, not glued)

Bottom layer

PPGI (prepainted galvanised steel) color steel sheet

Parts

Eccentric hook used for connection of panel

Film covering for protecting the surface layer

Characteristics

Heat insulation

energy-saving

100mm width can keep temp at 0℃

(suit for fresh keeping)

150mm width can keep temp at -18℃

(suit for cold storage)

200mm width can keep temp at -38℃

(suit for freezing)

Water resistance and sound proof

Weather proofing

Light weight compared to traditional stone or plaster panel

Fire retardant level: B

Safe and green,good appearance,without formaldehyde

High strength and bending resistance

Easy quick installation and dismantling

Lifespan

can reach 15-20 years

Main application

Can be used for wall,roof,floor and partition of cold storage, mobile house, industrial plants, warehouses, supermarkets, hospitals, stadiums, activities room and reconstruction residence, villa, commercial building, remodeling of old structures, heat insulation fire places, airport, etc